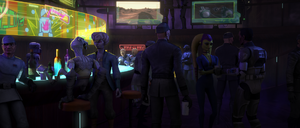 This is The Music Page. It is for users to have fun and add their favorite songs to the wiki for enjoyment. You can request songs in the comment section below.
Also, if you choose a good enough song, (must be catchy but not too catchy) it will be the song of the week.
Plus as well, just going on here instead of YouTube is easier. Well for me it is.
Sorry but please don't go off and put a song on here yourself, you need to request it. Also, I don't want military (or instrumental) , I'll do another page for that. I just don't want it on here. I'll say it again, no military songs on this page, I'll do a different page for it. It probably would be important for your guys so that's why, not because I don't like it. For instrumentals and more, go Here.
REQUEST A SONG!!!!!!!!!!
Music Videos
Edit