"Lock it down!"

United Forces Security has been shutdown due to inactivity by the administration. If you have any questions or concerns regarding the closing of this page, leave a message on it's talk page.
United Forces Security is the legion United Forces defense. Also known as the MP (Military Police). UFS is led by First Lieutenant Echo WhiteLaser, second in command Corporal Archer, and a new MP leader comming to order soon.
MP Gear
The regular MP unit gear is Shock Trooper gear: First picture (right).
The regular MP medical gear is Shock Trooper but with Kix body armor: Second picture (left).
Non Member MP gear is regular clone with Burner helmet or no Burner helmet: Third Picture (right).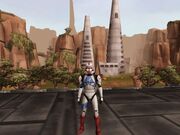 MP Gun Requirements
An MP unit should have the electro staff if possible for security and prisoner transfer, escort, and guard duty.
MP units must have DC-15 carbine rifle.
MP units must also have DC-15A rifle (Felucian rifle for non members).
Pictures will be shown of the rifles.


MP DC-15 Carbine rifle.                                                           MP DC-15A Rifle.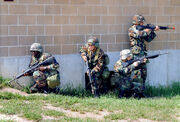 Training positions (In First Lieutenant Echo base)
Two Tower guards.
A security desk worker.
Two bunkers guards.
Two- Three Gate guards.
MP Medic (As Many As Possible).
'Note:' More positions will come when MP starts developing more.
Other Branches
The MP unit works with all branches Marines and Navy for security help. As well with that MP units can be in other branches and be still working as an MP unit. If you wish to work as an MP unit please report to First Lieutenant Echo or the next MP leader Corporal Archer.